Our Team at Dr. Folsom's office is dedicated to taking care of the needs of our patients. We thrive off the energy and enthusiasm that our patients bring in; and the excitement that they have looking forward to pain relief. Not only do we enjoy the friendly atmosphere that our patients bring in with them, we also love the complete joy it brings to their faces to release all the pain and stress that has been caused to them. As we always says, "Life is better when you're pain-free!"
Chiropractor Scott Folsom D.C.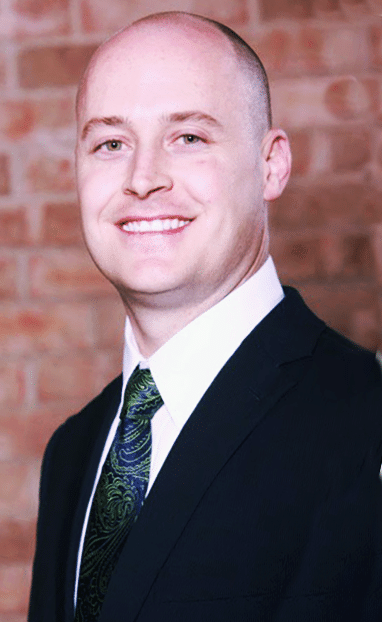 Dr. Scott Folsom grew up in Amarillo, TX. He was very competitive in his youth as a gymnast and won 2 national titles in Trampoline and Double Mini Trampoline in 1994. He served in his community while holding many church callings, obtaining his Eagle Scout Award and participating in various community service projects. He served a two year, full time church mission in the Czech Republic where he learned to speak Czech and grew to love the Czech people.
Dr. Folsom married his lovely wife Katie in 2006, and since then, they have been blessed with two sweet sons, Elliot and Max and a beautiful daughter, Julia.
Dr. Folsom received Bachelors' of Science in Health and Wellness and Anatomy and his Doctorate of Chiropractic from Parker College of Chiropractic in Dallas. While at Parker, he developed a fascination with the ability of the human body to heal itself. He is constantly refining his knowledge and techniques to provide the most advanced and effective care available. He is a level III certified medical professional with the Titleist Performance Institute, and a certified Kineiotaping practitioner. Dr. Folsom worked at Lovett Chiropractic in Amarillo for 2 years. In 2013 he made the decision to move to Alaska and be a part of the Arctic Chiropractic Team. Dr. Folsom loves to get people out of pain fast and restore optimal function so people can get back to doing what they love to do, without pain. He is eager to be a part of your road to recovery.
| | |
| --- | --- |
| Monday | 9:00am - 6:00pm |
| Tuesday | 2:30pm - 6:00pm |
| Wednesday | 9:00am - 6:00pm |
| Thursday | 9:00am - 6:00pm |
| Friday | 9:00am - 12:00pm |
| Saturday | Closed |
| Sunday | Closed |

Arctic Chiropractic & Physical Medicine
1830 East Parks Highway Suite A120
Wasilla, AK 99654
(907) 373-5054