Our Team at Dr. Folsom's office is dedicated to taking care of the needs of our patients. We thrive off the energy and enthusiasm that our patients bring in; and the excitement that they have looking forward to pain relief. Not only do we enjoy the friendly atmosphere that our patients bring in with them, we also love the complete joy it brings to their faces to release all the pain and stress that has been caused to them. As we always says, "Life is better when you're pain-free!"
Chiropractor Scott Folsom D.C.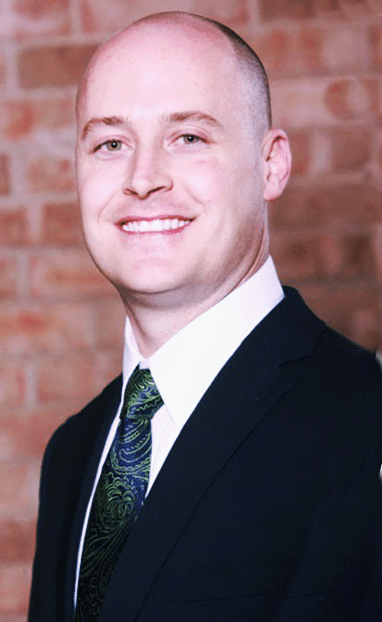 Dr. Scott Folsom grew up in Amarillo, TX. He was very competitive in his youth as a gymnast and won 2 national titles in Trampoline and Double Mini Trampoline in 1994. He served in his community while holding many church callings, obtaining his Eagle Scout Award and participating in various community service projects. He served a two year, full time church mission in the Czech Republic where he learned to speak Czech and grew to love the Czech people.
Dr. Folsom married his lovely wife Katie in 2006, and since then, they have been blessed with two sweet sons, Elliot and Max and a beautiful daughter, Julia.
Dr. Folsom received Bachelors' of Science in Health and Wellness and Anatomy and his Doctorate of Chiropractic from Parker College of Chiropractic in Dallas. While at Parker, he developed a fascination with the ability of the human body to heal itself. He is constantly refining his knowledge and techniques to provide the most advanced and effective care available. He is a level III certified medical professional with the Titleist Performance Institute, and a certified Kineiotaping practitioner. Dr. Folsom worked at Lovett Chiropractic in Amarillo for 2 years. In 2013 he made the decision to move to Alaska and be a part of the Arctic Chiropractic Team. Dr. Folsom loves to get people out of pain fast and restore optimal function so people can get back to doing what they love to do, without pain. He is eager to be a part of your road to recovery.
Chiropractor Levi Baron D.C.
Doctor Levi Baron grew up in various small town communities in Minnesota, North Dakota and Ohio. No matter which Air Force Base his family was stationed at, he found places to enjoy his favorite pastimes of hunting and fishing.  After graduating high school in West Alexandria Ohio, Dr. Baron went back to Minnesota to pursue a Bachelor's degree in Biology with an emphasis in Health and Medical Sciences and received a minor in Chemistry from MSUM.  While at MSUM he was part of various clubs on campus including being the Vice President of the Pre-Health Professionals club. He also met his wife Nicole while pursuing the same major of study.  While studying at MSUM he also fell in love with the human body as a whole.  So much so that he changed his major from Pre-Dental to Pre-Chiropractic.  After graduating he went to Minneapolis and began his Chiropractic education at Northwestern Health Sciences University (NWHSU). While studying at NWHSU Dr. Baron truly came to appreciate how efficient and symbiotic the human body really is.  After his 2nd year there he married Nicole and has enjoyed her support and encouragement throughout his professional career.  For Dr. Baron's final externship of chiropractic school he went to Rapid City, South Dakota. However, It has always been Dr. Baron's dream to live and practice in Alaska.  Dr. Baron's treasured moments are seeing people healed while recovering the functions and activities they had lost the ability to do.
Monday
9:00am - 12:00pm
3:00pm - 6:00pm
Tuesday
3:00pm - 6:00pm
Wednesday
9:00am - 12:00pm
3:00pm - 6:00pm
Thursday
3:00pm - 6:00pm
Friday
9:00am - 12:00pm
Saturday
Closed
Sunday
Closed

Arctic Chiropractic & Physical Medicine
1830 East Parks Highway Suite A120
Wasilla, AK 99654
(907) 373-5054